[rev_slider alias="dr750s" /]
INTRODUCING THE DR750S BLACKVUE
Refined signature design, with reinvented performance. The new BlackVue series remains unmatched by competitor systems with built-in WiFi, Mac/PC compatible viewing software, smartphone connectivity and GPS location.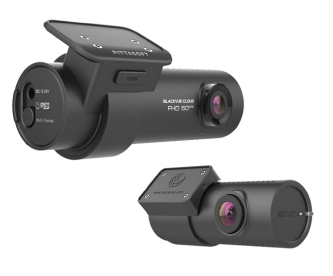 Adaptive Format-Free
Your BlackVue saves and organises files on the microSD card in a new efficient way. Reduce the need for regular SD card formatting and prevent file corruption events after long uses while improving the the microSD card lifespan. Event Files Overwrite Protection
Up to 50 files will be protected from deletion when saved in the system as event files. Dual Full HD
High quality Sony STARVIS™ sensors @ 2.1MP, offer dual 1080P Full HD resolution at up to 60 fps –
providing smooth recording and license plate recognition. 2 Year Warranty
Now with a 2 Year Australian Warranty. Improved Security
Introduction of unique Wi-Fi passwords for each individual camera which is included in the box and printed on the inner label of the dashcam. Reduce the risks of Wi-Fi hacking while keeping the ability to change the password if you decide. Enhanced Night Vision
Offers exceptional night vision when recording while your vehicle is stationary and in Parking Mode. Scheduled Reboots
Restarting the BlackVue system from time to time can go a long way in ensuring stability. With scheduled reboot, you can choose a time–preferable at night–when your dashcam will Reboot.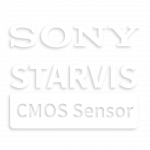 Sony Starvis Image Sensor
The Sony STARVIS™ image sensors that equip both the front and rear cameras of the DR750S-2CH deliver outstanding low-light performance. Faster Processor
Impacting almost everything including faster booting, rebooting, shut down, updates, GPS performance and Wi-Fi downloads. Lower Power Consumption
The Dashcam itself produces less heat and has lower power consumption meaning the unit can potentially run for longer periods of time in Parking Mode.
LCD SCREENS AND REMOVING THE SD CARD IS HISTORY
You can now watch BlackVue videos on your smartphone.
WiFi will work when in range (up to 15m) from the camera. Video playback may differ depending on smartphone settings. Connecting through solid walls or objects may slow connections.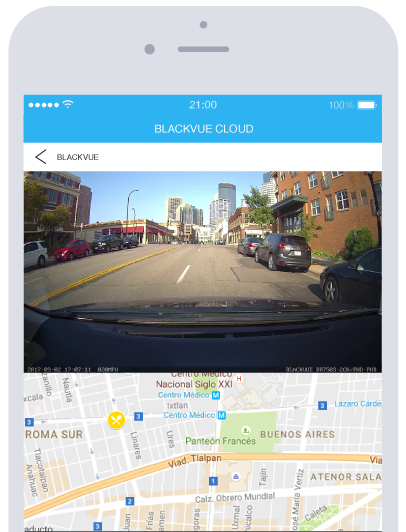 Stylish Rotatable Design
An innovative cylindrical design enables the DR750S camera to be rotated 360′ degrees to ensure optimum viewing and customization of viewing angles. The cylinder shaped design means the unit will sit neatly and conveniently behind your rear vision mirror.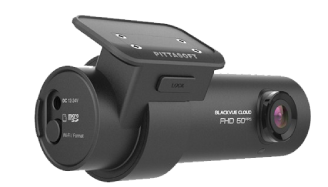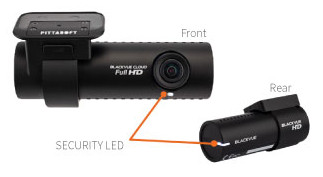 Security LED
The DR750S uses a security LED to notify that there is a security camera operating in the vehicle. This LED can also be disabled using the BlackVue software program or smartphone App.
Built-in Wi-Fi and GPS
GPS adds geolocation and speed data to your videos. Connect to your BlackVue using WiFi on a smartphone or tablet. WiFi also lets your BlackVue connect to BlackVue Over the Cloud via any home or mobile Wi-Fi hotspot.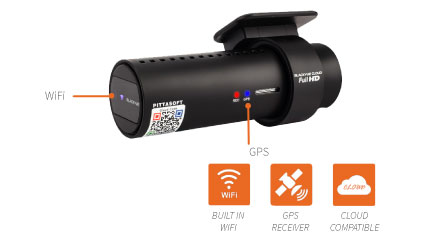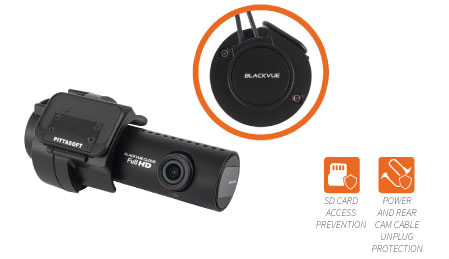 Tamper-proof Case (Optional)
The BlackVue Tamper-Proof Case is a security accessory for BlackVue DR750S Series dashcams. It blocks physical access to the microSD card slot, and prevents unplugging the power and coaxial cables, thus highly reducing risks of data tampering.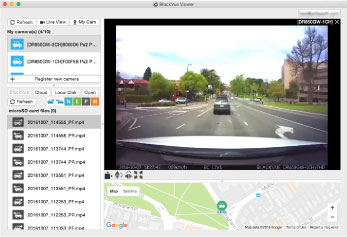 MAC Viewing Software
The BlackVue DR650S and DR750S are the only dash cameras on the market to have viewing software for MAC as well as PC. Users can view, download footage and monitortheir recorded footage on MAC computers.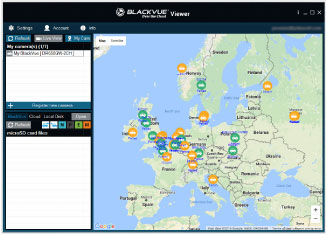 Windows Viewing Software
The BlackVue viewing software can be accessed by inserting the cameras SD card into a PC. The viewing software enables the user to check footage, change the time zone, adjust user options, playback footage in slow motion and more.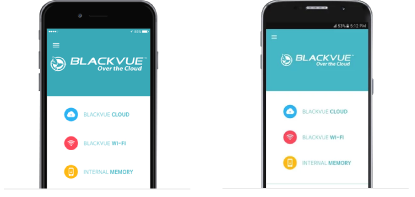 Smartphone App
The BlackVue App is free to download for all customers and works on both iOS and Android devices. The camera can connect to your smartphone or tablet device using the App and once connected, the user can download footage, watch a live view of the camera, change user settings and more.

Premium Authorised BlackVue Dealer
An authorised BlackVue reseller is required to purchase their stock from the official importer, this means all stock is genuine from the Pittasoft factory in Korea endorsed by the manufacturer for quality assurance warranty support.

Australia Wide Installation Service
We have trusted partner installers Australia wide.

Lifetime Installation Warranty
This product comes with a minimum of 12 month manufacturers warranty and if installed by Autofidelity Australia we offer a lifetime warranty on our installation.

Installations Completed Within One Day
All jobs are done professionally within one day.

Free Courtesy Car
When you book an installation at our workshop in Moorabbin.

Free Shipping Australia Wide
Free shipping where ever you are in Australia.
MORE REASONS TO CHOOSE THIS PRODUCT
Multiple recording modes for all situations
Continuous recording mode while driving. Manual recording mode can be selected if preferred. Automatic motion detection recording in parking mode captures events even when you're away from the car. Parking mode recording is automatically activated when the vehicle is switched off, recording event files only when there is activity. Motion and impact detection sense activity around the vehicle, automatically recording event files.
Crystal clear audio
Captures high-definition sound with your video recording, and is user selectable from the device. Sound is recorded via an embedded microphone for simultaneous playback with video files. User selectable mute function for immediate activation or de-activation of sound recording.
Built in real time clock (RTC)
Includes date and time information with your recordings.
GPS connection support
Saves GPS location information with your recordings.
Brilliantly clear HD recording
Brilliantly clear, colour image and HD recording for front camera.
Sony STARVIS™ image sensors captures high-definition video. 1080p HD 60fps/16:9 wide view front camera. 1080P / 30fps rear camera. Automatic brightness control for much better light-stabilised recordings.
Voice prompts
Instant voice prompts give you status updates audibly so you can keep your eyes on the road. This feature can be enabled or disabled through the setup manager.
Optimised viewing angle
An innovative cylindrical design enables the BlackVue dash cam systems to be rotated 360′ degrees to ensure optimum viewing and customization of viewing angles.
Power monitoring
The BlackVue Power Magic Pro module monitors low voltage and senses when the vehicle battery is running
low. The system will be automatically switched off to conserve your car battery.
16GB Class 10 SD solid state storage
16GB class 10 micro SD card storage included, with a maximum SD card storage capacity of 128GB. SD card storage capacity scan overwrites older event files automatically once the storage is full for uninterrupted recording. SD card formatting available at the press of a button to delete unwanted event files.
Optimised file management
Event Files Overwrite Protection
Dashcams record in a loop, overwriting older files when the memory is full. BlackVue DR750S-2CH can prevent Event files (triggered manually or by impacts) overwriting. Up to fifty (50) files can be protected this way. You can choose to allow new Event files to overwrite past Event files, thus keeping the latest fifty.
Adaptive Format-Free File Management
Developed by BlackVue, this file system improves recording stability and reduces the need for microSD card formatting, while giving you the flexibility to change recording time unit (1/2/3 minutes) and quality settings. Still, the videos saved are playable on most viewers.
Why do you need a dash cam?
There are several reasons to get one, but here are a few that you might not have thought of:
1 EVIDENCE IN THE EVENT OF AN ACCIDENT
Sometimes it's just not that easy to describe what happened in an accident, and, particularly in circumstances which might normally be considered to be your fault, you might need some evidence to support your claims. For example, a car backing into you on the street would almost certainly put you at fault if the other driver claimed that you hit them from behind.
2 PROTECTION AGAINST INSURANCE FRAUD
You only have to glance at Youtube to see some of the kinds of scams that insurance fraudsters have come up with to get you (or your insurance company) to pay up.
3 PARKING PROTECTION
Because your system will record events that happen around the car while it is parked or stationary, you might be amazed at what you capture. Anything from your car or another car being side swiped or damaged, and evidence of someone trying to break into your car (or another car) are just some of the possibilities.
4 VEHICLE ABUSE AND MISUSE
While you will know that you are recording events, not everyone will. When your vehicle is serviced, or driven by another person, you will be able to check up on exactly what has happened if you find the car is damaged or has a lot more kilometres on the odometer than you anticipated.
5 REPORT BAD DRIVERS
Many people are effected every day by road rage incidents or simply bad driving. The events that you capture while you are driving could help keep the worst offenders off the road.
6 RECORD YOUR TRACK DAY EVENTS OR A
SCENIC DRIVE
Whether you're hurtling at break-neck speed around the track, or just wanting to keep a reminder of a great place that you have driven to, you will be able to capture the recordings, show them to friends, or just keep them for your own personal enjoyment.
Check out these videos below for some real life examples of the benefits of having a dash cam in your car.
Toggle the button on the sides of the video to view previous and next videos.
CHECK OUT THESE VIDEOS FOR MORE INFORMATION
Here's a installation video that might help you install your BlackVue Dash Cam.
Demonstration video of the BlackVue 2 channel drive recorder
BlackVue Operating Instructions.